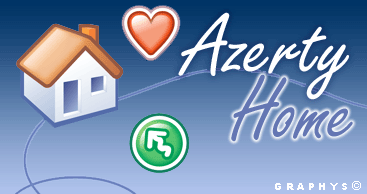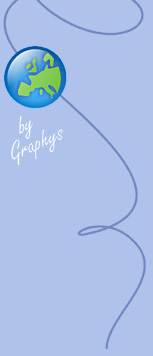 Theme for Thunderbird:
Azerty 'mail for Thunderbird by Graphys

Since an e-mail is generally symbolized by an envelope, there is a mailbox for receiving them :-) A small pencil awaits you for replying to e-mail. Have you seen the beautiful leather notebook for your contacts? And as for spam... may it burn in hell! (obviously my "Burn" icon inspired the last official TB theme...)

Azerty' mail is a complete theme : at least 150 icons created!

Download these icons :

...to replace those you can see on title bars!
Save previous icons before then put those in
C:\Program Files\Mozilla Thunderbird\chrome\icons\default
or equivalent, according to the installation folder...
Azerty 'mail Option Window...
(You'll see "Privacy" if you use Thunderbird 1.4 to 1.5)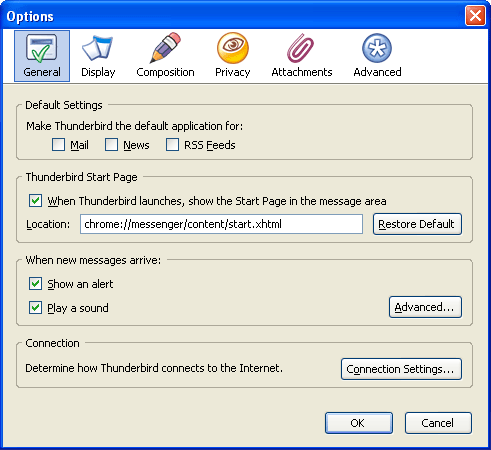 Themes for Firefox :

Azerty III for Firefox by Graphys

A little inspiration, a few hours of diligent work... and here is Azerty III, for Firefox! It retains most of the icons from the second of the Azerty series, but it also introduces some new ones; notably, those in the options window. This creation was inspired by the work done on Azerty for Thunderbird: Azerty 'mail!

You can see that it would serve you well to return here from time to time to see what's new ;)
Azerty II for Firefox by Graphys

| | |
| --- | --- |
| | This skin takes a different approach to representing the buttons, while still remaining familiar. The Back and Forward arrows take on an element of reloading, since through their use, the browser must retrieve the pages from its cache. The homepage button is a reminder of the Home key. Favorites are the webpages the user likes, and so they are represented by a heart. History is still represented by a clock, but at the same time the skewed arrows show that one has surfed here and there. And for cut... a knife :) |
Azerty I for Firefox by Graphys

| | |
| --- | --- |
| | This skin retains the most common symbols for each button (a house for the homepage, arrows for navigation, a star for bookmarks, a clock for history, scissors for cut, a realistic printer, etc...) The theme remains closely tied to Internet Explorer's icons, just as its base theme, Qute, did - which, along with tabbed browsing, is what made Firefox a success, I am sure of it! At least until the debut of Internet Explorer 7... |
Icons for both Azerty I & II and some of them for Azerty III

| | |
| --- | --- |
| | A sort of blue pyramid in which the levels are stacked shows when a not-installed plugin is necessary for a web page. The traditional arrow on the OK button is exchanged for a checkmark after an address is validated. The eye represents privacy (Big Brother?) and downloads are represented by a progress meter. The globe serves to remind you that there is more than America in the world (like France ;-). NB: for theme downloading one often sees an icon of brushes, pencils, paints, but rarely a hand, which in this case means "Please wait, downloading..." |

Clic here if you don't know how to install
a theme for Firefox (in french)...


NOTA BENE :
Do you want to finally see a face for Firefox ?
You will have to seek the fox...
there is a hidden door on this page :-)


New Firefox Options Window for Azerty III :
( for Firefox 2.0)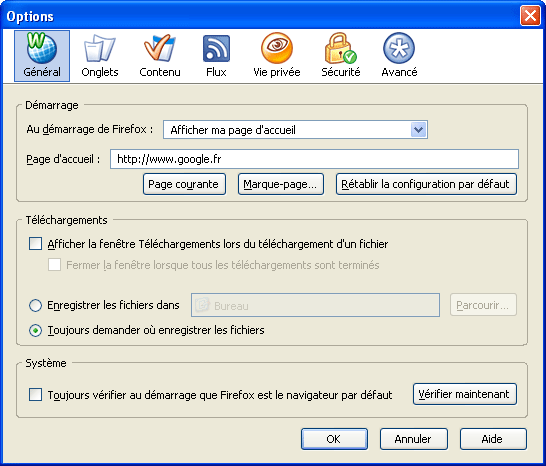 Firefox Options Window for Azerty I & II :
( for Firefox 2.0)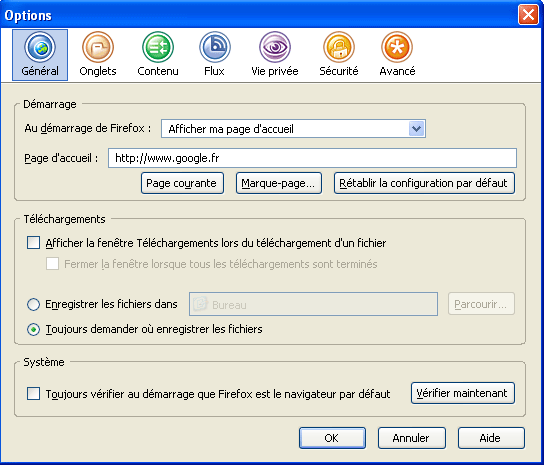 Copyright © 2001-2006 GRAPHYS WEB - Content on this site is
licensed under a special Creative Commons Attribution License.
Please refer to the copyright page (click on the image below)
and verify that you have an authorisation to use the images, by going at:
http://graphysweb.com/images.htm


I thank
Seth Kinast
very much for these translations and I'm grateful for all the encouraging remarks from
Mozilla.org
:D
Le Gros Million: an easy way to more often gain in Euromillion
Made in France... There are no Qwerty keyboards here, so the name of this theme pays homage to our country; it is not the center of the world, but its varied landscapes are magnificent!



Do you enjoy these icons and pictures? Encourage their designer to create new projects by making a donation, even a small one!